Nationalparkverwaltung
Bayerischer Wald
Geocaching in the Bavarian Forest National Park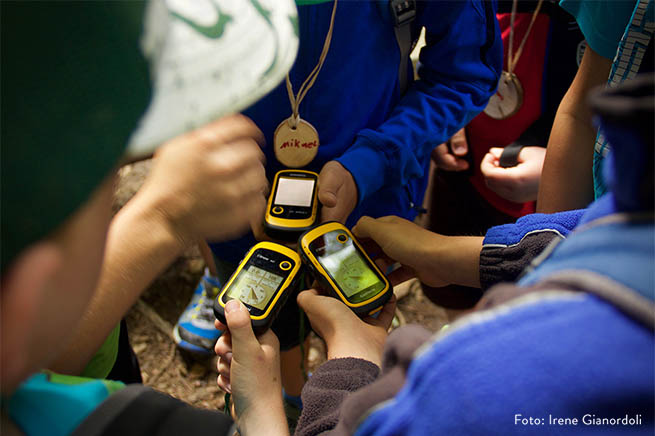 Geocaching refers to the search for a "treasure" (the so called cache) outdoors using a GPS device. Often it is called a modern kind of treasure hunt. Since Geocaching is suitable for young and old and combines love for technology and nature experience, it is very popular. The cache itself may vary in its appearance. It is usually a container with a logbook inside.
Geocaching inspires people for nature and can generate an interest in its conservation. However, it is important to consider a few things to prevent conflicts. Geocaching in the Bavarian Forest National Park means following the rules of behavior in the National Park:
The search for the cache should be practiced very carefully and with respect to the flora and fauna.
A cache may only be hidden at a suitable location along the marked paths. The maximum distance to the path is 3m.
It is not allowed to bury the caches.
It should only take a short time to recover the cache.
No animals may be disturbed and no vegetation including standing or fallen trunks may be damaged or even destroyed.
Hiding a cache in breeding places, in trees (e.g. treetops), in dead wood as well as in resting areas of animals and bogs including waterbodies is prohibited.
Due to respect of the flora and fauna, searching and publishing of night caches is forbidden throughout the Bavarian Forest National Park.
Geocaching in the twilight should be avoided.
The container must have a clear label "Geocaching"
The following must not be put in the cache: Food or strongly aromatic objects which might attract animals, drugs or alcohol, explosives or ammunition
Each cache has to contain a set of rules (cachenote) wherein Bavarian Forest National Park's philosophy "Let nature be nature" is explained
Important:
Publishing of new caches has to be permitted by Bavarian Forest National Park's administration
Information and contact:
Nationalparkverwaltung Bayerischer Wald
Florian Porst
Sachgebiet V: Besuchermanagement und Nationalparkmonitoring
08552 9600-186
08552 9600-100
florian.porst@npv-bw.bayern.de
For general rules and guidelines as well as further information about geocaching, please visit the following pages: www.geocaching.com or www.opencaching.de.