Nationalparkverwaltung
Bayerischer Wald
Camping in the Bavarian Forest National Park
Tent pitches and camping vehicle parking in the protected area
The National Park is a sanctuary where nature can develop largely undisturbed by humans. As a result, spending the night in the National Park is generally prohibited as stipulated by the National Park Ordinance Nevertheless, there are several camping options available in the direct vicinity of the Park within the Ferienregion Nationalpark Bayerischer Wald. With a view to providing a few basic accommodation options within the protected area itself, there are a couple of exceptions where it is possible to spend the night. In addition to the serviced mountain huts on the mountain tops of Lusen and Großer Falkenstein, there are also designated areas for tents and camping vehicle parking located by the edge of the National Park. .
Wild camping is forbidden in the National Park area!
The following camping options are currently available:
Camping vehicle parking and tent pitches in Scheuereck
Idyllically located in the hamlet of Scheuereck below Großer Falkenstein mountain, this small camping ground has four parking spaces for camping vehicles and four pitches for tents. A simple toilet and water access are available, but open fires are prohibited. Visitors can stay up to two nights here. This camp site is free of charge. However, prior registration at the Haus zur Wildnis on 09922 5002-100 or hzw@npv-bw.bayern.de is required. This site is open from 1 April to 15 November every year.
Camping pitch regulations
Open from 1 Apr. until and including 15 Nov.,
Registration is required BEFORE you use the site: HAUS ZUR WILDNIS: daily 9 - 17 Uhr
09922 5002-100 or hzw@npv-bw.bayern.de
Camping is only permitted in the designated bays,
Maximum stay is 2 nights,
Fire, smoking and naked flames are prohibited,
Please avoid making noise,
Please take any rubbish or food remains with you,
You are not permitted to use additional structures
within the camping bays (e.g. awnings, camping
showers etc.),
Please keep dogs on a lead,
There are no utilities or waste disposal provided,
You use the campsite at your own risk.
---
Camping Vehicle Parking at Falkenstein National Park Centre
Centrally located on the B11, the large car park by Falkenstein National Park Centre in Ludwigsthal offers parking for campers. There's enough space here for five camping vehicles. Overnight tickets cost 8 euros and these must be bought at the ticket machine on site. No registration is required. The public toilet is available during the day, and water is also available during the daytime from staff at the service building by the parking lot on request. As in Scheuereck, these camping spots can be used for two consecutive nights. This site is open from 1 April to 15 November every year.
---
Other options
Other camping options are also available in the immediate vicinity of the National Park. Information about campsites and camping vehicle parking areas nearby can be found on the website of the Ferienregion Nationalpark Bayerischer Wald. Youth groups can also use the youth campground in the Bavarian Forest National Park in Forstwald. In order to protect our sensitive natural environment, we kindly request that you only use official designated accommodation options. Violations to the general ban on overnight stays in the Park are always reported.
---
Contact and registration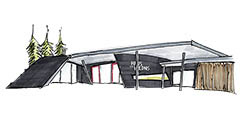 Haus zur Wildnis
You can get lots more useful hints and tips for your stay in the Bavarian Forest National Park in our Frequently Asked Questions section.