Nationalparkverwaltung
Bayerischer Wald
BBQ areas and playgrounds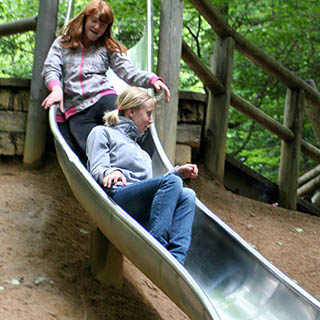 For our young visitors we maintain a number of playgrounds. The Forest playground near Spiegelau is a particularly elaborate and extensive adventure land. In addition, our national park centers Lusen and Falkenstein provide playgrounds in immediate vicinity of Hans-Eisenmann-Haus and Haus zur Wildnis. There also is a children-adventure-room in the Haus zur Wildnis. Opportunity to play can be found at Schwellhäusl or at Racheldiensthütte too.

In the national park there are four specially arranged fire pits and barbecue areas, in which it is allowed to make fire. You can find these locations on our outline map. For groups of 15 people or more a telephone registration is required for BBQ areas. So please contact Hans-Eisenmann-Haus (08558 9615-0) or Zwieslerwaldhaus at the Haus zur Wildnis (09922 5002-0) in time. This registration is free. Open fire is strictly prohibited in other parts of the national park!
Further tips for your stay in the Bavarian Forest National Park can be found in our Frequently Asked Questions.
Weiterführende Informationen