Nationalparkverwaltung
Bayerischer Wald
Profile of Bavarian Forest National Park
Along the border between Bavaria and the Czech Republic extends the Bavarian Forest National Park at the area between Bayerisch Eisenstein (within the administrative district of Regen) and Mauth (within the administrative district of Freyung-Grafenau). On October 7, 1970, this large-scale protected area was inaugurated as Germany's very first national park. In connection with the neighboring Šumava National Park in the Czech Republic, it forms the largest contiguous forest reserve throughout Central Europe. The guiding principle in the Bavarian Forest National Park on more than 24,000 hectare is: "let nature be nature".
According to this philosophy, the forest with its bogs, mountain streams and summits may develop into a limitless forest wilderness according to its very own laws. In this way, yesterday's economic woodlands become the native jungle forests of tomorrow. Unique biodiversity is a result. Rare animals, such as lynx, otter, capercaillie or ural owl are able to find a habitat again. In addition, there are 16 species of beetles, which are considered to be primeval forest relics and only occur in extremely pristine forests. The strong biodiversity is based, among other things, on the high percentage of deadwood, which serves as basis and habitat for hundreds of insects, fungi and birds. Natural processes of growth and decay within the forest ecosystem are permitted in the national park, also by leaving behind those dead or windthrown trees in their natural environment.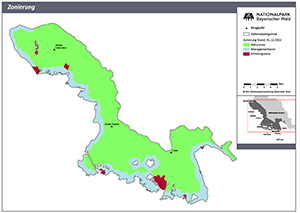 These areas, where there is no human impact, are called natural zones. In the Bavarian Forest National Park, 75.37 percent of the area belongs to the natural zones, which means that the international requirements for a national park are met.
There are three natural forest communities among the habitats of the Bavarian Forest National Park. They emerged due to big differences in altitude, as well as rough and rainy climate with snowy winters: mountain spruce forests in the areas with at an altitude of about 1200 meters, mixed mountain forests with spruce, fir, beech tree and sycamore maple in the warmer sloping sides and alluvial forests in the moist folds with nocturnal accumulation of cold air. In addition, there can be found bogs and former high pastures, which are called Schachten within the national park.
With the Lusen National Park Centre near Neuschönau and Falkenstein National Park Centre near Ludwigsthal, the Bavarian Forest National Park offers an exciting start into the protected area for all of our visitors. Information centres at both places invite them for some explorations. In addition, every national park centre is connected to an animal enclosures, which provide an insight into the original wildlife of the Bavarian Forest. In addition, the Forest History Museum St. Oswald offers some interesting insight into the national park history. The facilities can be experienced with all senses, at any age and in any season. Accessible paths with a slight incline facilitate a visit to nearby beautiful nature for people with disabilities and families with strollers.
Due to about 350 kilometers of signposted hiking trails, more than 200 kilometers of designated bike paths and about 80 kilometers of groomed cross-country hiking trails, the national park is opened up to nature enthusiasts. In addition, the all-season leaded tour program offers experiences under expert guidance within the national park. Trained forest guides and national park experts provide special insight into the large scale protective area's nature. Furthermore, there are programs for children and vivid specialist presentations, as well as cultural events as well.
Profile
Inauguration: October 7, 1970 (Rachel-Lusen area in the administrative district of Freyung-Grafenau)
Extension: 1 August 1997 (Falkenstein-Rachel area in the administrative district of Regen)
Area: 24 250 hectare
Summits: Großer Rachel (1453 meters), Lusen (1373 meters), Großer Falkenstein (1315 meters)
Natural mountain lake: Rachelsee
Natural features: 98 percent of the area is woodlands. In addition, there are open raised bogs (Filze) and former forest pastures (Schachten).
Percentage of natural area within the total area: 17 516 hectare (72,3 percent of total national park area)
Visitor facilities and environmental education facilities:
Lusen National Park Centre with Hans-Eisenmann-Haus, animal enclosures, botanical site, geological site and tree top walk
Falkenstein National Park Centere with Haus zur Wildnis, animal enclosures and Stone Age cave
Forest History Museum St. Oswald
Forest playground Spiegelau and Natural Kneipp hydrotherapy pool Spiegelau
Deer enclosure Scheuereck
Information points at Bayerisch Eisenstein, Zwiesel, Frauenau, Spiegelau, Mauth and Freyung
Jugendwaldheim near Schönbrunn, Lusen
Wildniscamp am Falkenstein near Zwieslerwaldhaus
Number of visitors: 1.3 million per year
Internet: www.nationalpark-bayerischer-wald.bayern.de